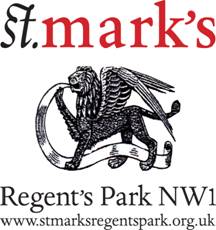 Welcome to St Mark's Church, Regent's Park
If you would like to donate to our stone wall appeal please find below our BACS details:
Account name: The PCC of St Mark's Regent's Park
Account number 21795627 Sort code: 40-02-03
 If you can Gift Aid your donation please email william.gulliford@talktalk.net
All are welcome to join us for worship. We seek to be an inclusive and affirming community for people of all races, ages, gender identities, sexual orientations, abilities and backgrounds.
Please find our year's programme of services below.  We are working a little bit week by week so please be in touch with us to find out the most up to date plans.
https://www.youtube.com/channel/UCL3tr-A_A5hQlkNvV-9SBTQ
***********************
To access the current Music List, please click here
************************
Good Friday music  – recorded live at the Liturgy of the Day 2022, including Miserere (Allegri)
***********************
The wearing of masks is now optional.
Communion is now offered in both kinds.
***********************
SUNDAY 14th AUGUST, 2022
10.30 AM CONGREGATIONAL SUNG EUCHARIST
PREACHER:  THE REVEREND JOANNA YATES
xxxxxxx
Notices
Thursday 8 September   PCC
Sunday 18 September –     Trinity XIV Harvest Festival
Cider Apple Sunday
Sunday 25 September 
10.30 am Zoo Service for St Francis-tide
Sunday 2 October    –       Dedication Festival
Sunday 23 October    –     Last Sunday after Trinity
Tuesday 1 November   –   All Saints' Day
8.30 am Said Eucharist
Wednesday 2 November – All Souls
6.30 pm Sung Requiem
Sunday 13 November
Remembrance Sunday
Sunday 20 November   –   Christ the King
Sunday 27 November 
Advent Sunday Litany and Sung Eucharist
4.00 pm The Advent Procession
Tuesday 6 December  
Community Carols
Sunday 11 December  –    Advent III
Nativity Play with Bayleaf the Donkey
Thursday 15 December
Carol Singing at Oldfield
Sunday 18 December   –   Advent IV
4.00 pm Christmas Carols
Saturday 24 December 
5.00 pm Children's Crib Service
8.00 pm Midnight Mass
Sunday 25 December
10.30 am Christmas Day
Donations help to keep the St Mark's running. At services we collect donations of cash and have card readers available. Donations can also be made by BACs.
Account name: The PCC of St Mark's Regent's Park
Account number 21795627
Sort code: 40-02-03
Please send the Vicar an email if you would like this donation to be subject to Gift Aid.
*******
Please click here to visit the St Mark's YouTube site
Please click on the Music menu to browse and hear recordings of the Choir and Organ
*******