VESTMENT EXHIBITION
Friday 24,Saturday 25 – Open for viewing and sale: 10.30-13.00
Sunday 26 March – Final Sale & Auction: 12.00– 15.30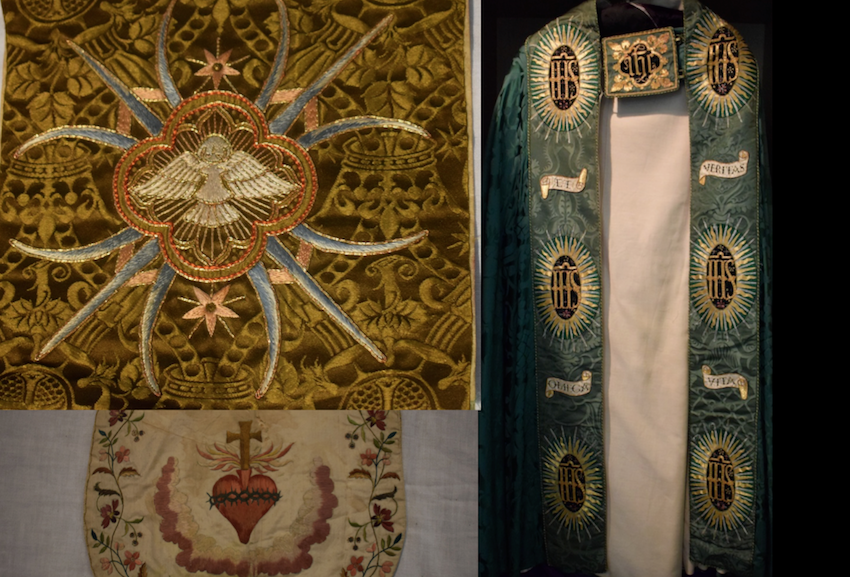 THURSDAY 23 MARCH
4.30 PM DOORS OPEN FOR VIEWING
6.00 PM DRINKS RECEPTION
   WITH THE BISHOP OF EDMONTON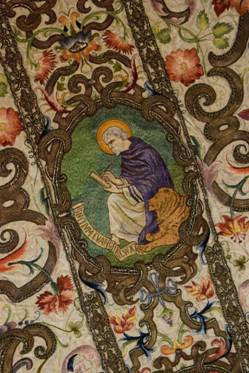 6.45 PM SHORT TALKS INCLUDING AN EXPLANATION OF THE COLLECTION BY
SISTER FRANCES DOMINICA ASSP
8.00 PM CARRIAGES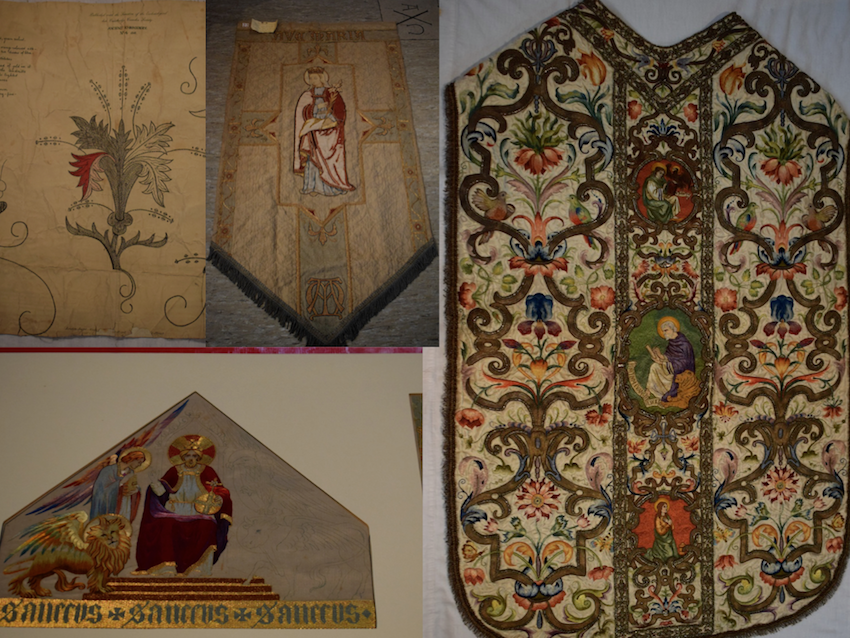 Last year, on the strength of our Comper history, the PCC of St Mark's was offered the entire collection of the former work room of the All Saints Sisters of the Poor.
The All Saints Sisters are a religious community founded in the heyday of the Oxford Movement. It had houses in Margaret Street W1, and London Colney, and was famed for its work amongst the poor in nursing, and in needlecraft. Their workroom took commissions from many of the great 19th and early 20th architects, not least Ninian Comper, who designed their own chapels in Oxford and London Colney.
The work of ecclesiastical needlecraft was recently highlighted to great international acclaim in the V&A exhibition, Opus Anglicanum. The Sisters were directly inspired by the tradition of English embroidery and were global leaders in reviving the tradition. The contents of the All Saints' workroom include some early 19th samplers of exquisite quality, major architectural designs, sample and completed vestments and hangings. There are also examples of the work from Sisters of Clewer, in Windsor, who passed some of their samples to the All Saints Sisters when they closed their own workroom.
Lord Runcie asked the All Saints sisters to take care of his important collection of vestments, which includes an early 18th century beautifully embroidered Latin chasuble and additional unique historic items.
As well as rare embroidery, there are fine linens and examples of complex historic lace of all periods, some of which may have belonged to Florence Nightingale.
Items which will not be kept by St Mark's for regular use, or given to collections of embroidery held in the Elizabeth Hoare Museum in Liverpool or by the Royal College of Needlework, will be for sale.
For collectors of historic embroidery and ecclesiastical vestments this will be an opportunity to view and purchase items of the highest quality.
There will be a reception between 6 pm and 8pm on Thursday 23 March. The Vicar of St Mark's will welcome guests at 6.45 pm, the Bishop of Edmonton will commend the exhibition and Sister Frances Dominica, former Reverend Mother of the Community will speak about the work of the Sisters and those who worked with them, and Dr Ayla Lepine will conclude with a short talk on the historical significance of the collection.